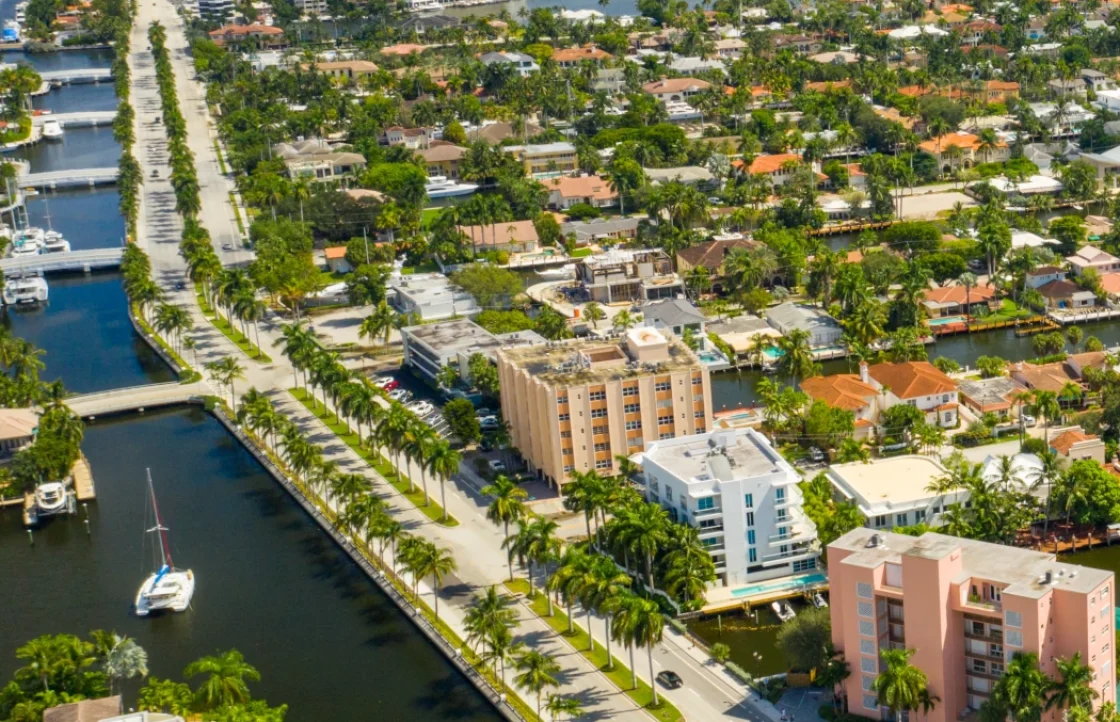 FIND YOUR HAPPY PLACE IN
LAS OLAS ISLES
The Las Olas Isles delivers luxury to residents of Fort Lauderdale. This exclusive waterfront neighborhood, referred to as Las Olas Isles by locals, consists of Isle of Venice, Hendricks Isle, Seven Isles, Nurmi Isles, and Riviera Isles. Each of these isles is conveniently located off popular Las Olas Boulevard, a road that runs from South Andrews Avenue to A1A/Fort Lauderdale Beach Boulevard.
Take a scenic drive around the neighborhood and you'll come across many impressive luxury homes. These waterfront estates offer residents ample boat dockage that helps accommodate the many yachts that belong to local homeowners. The area is also filled with tons of amazing attractions, such as shops, museums, galleries, parks, businesses, and waterways.
In Las Olas Isles, many residents prefer a slower pace of life. Most homes in the Isles are within walking distance of the beach and mere minutes away from Fort Lauderdale's best fine dining establishments, private schools, museums, galleries, and golf courses. Nearly every home in Las Olas Isles also offers impeccable views of the ocean and is in close proximity to the fun and excitement of downtown.
LIVING
Las Olas Isles is known for its lavish living. Many residents own upscale homes, often directly on the waterfront with dockage. These prestigious and highly-desirable properties are often equipped with large garages, gourmet kitchens, multiple bedrooms, luxurious bathrooms, and much more. There are also some condos in the area that offer incredible Intracoastal water views. These boutique-style buildings have been fully renovated inside and feature lush landscaping outside.
WORKING
Many residents who live in Las Olas Isles have jobs in Fort Lauderdale or nearby cities, such as Coral Springs, Wilton Manors, or Deerfield Beach. Median household incomes in this area are six figures, compared to the rest of Fort Lauderdale which is often lower. While Las Olas Isles has a higher cost of living, many residents are satisfied with their investment due to the beauty of the neighborhood and nearby amenities that make Las Olas Isles a great place to live and raise a family.
DINING
Las Olas Isles and the surrounding area are home to countless fine dining establishments, cafes, bars, and casual restaurants. Located in the heart of Fort Lauderdale's famous Las Olas Boulevard, residents can enjoy an endless selection of amazing pasta, crisp salads, authentic pizza, and delectable desserts at Louie Bossi's- a local high-energy Italian eatery. Other popular eateries in the area include B Square Burgers & Booze, Boathouse at Riverside, Sushi Maki, and Luigi's Tuscan Grill.
WEEKEND EXPLORING
There's always something to do while residing in charming Las Olas Isles. Bring the family to Las Olas Oceanside Park for an afternoon of fun. The park hosts concerts and other events throughout the year, as well as farmers' markets on the weekends. It also includes a splash pad for use by children and adults. Other places around Las Olas Isles to visit include the Heavenly Spa by Westin, The Gallery at Beach Place, the International Swimming Hall of Fame, and the ElboRoom.
OFFICE
3924 N OCEAN BLVD
FORT LAUDERDALE FL 33308